Top Kitchen Renovation in Auckland
Welcome To Kitchen and Bath Reno
Searching for Kitchen Renovation in Auckland or Bathroom Renovation or Home Renovation in New Zealand? Kitchen And Bath Reno is a leading company known for residential and commercial Renovation In New Zealand. Renovating is a stressful and challenging process. When you partner with us for your next renovation project, you'll benefit from the design, renovation, and project management expertise that ensures you get nothing but the best results.
We are a trusted Home Renovation Company committed to offering Kitchen Renovation, Home Renovation, Bathroom Renovation, and House Extension in Auckland. From the beginning phase to the completion of the task, we pay attention to every aspect and assist you with the best support and services. Your satisfaction is our priority, and we work transparently to deliver exceptional renovating services without compromising quality.
Joinery is a big part of any renovation project and getting the right people and keeping the quality control is sometimes hard. For this reason, we have our in-house joinery manufacturing unit, which manufactures all kinds of joinery like Designer New Kitchen, Bathroom Makeover, Vanity, Wardrobes, Shelving, etc for all our projects. So what are you waiting for? Contact us today for Home Renovation in Auckland. We are just a call away.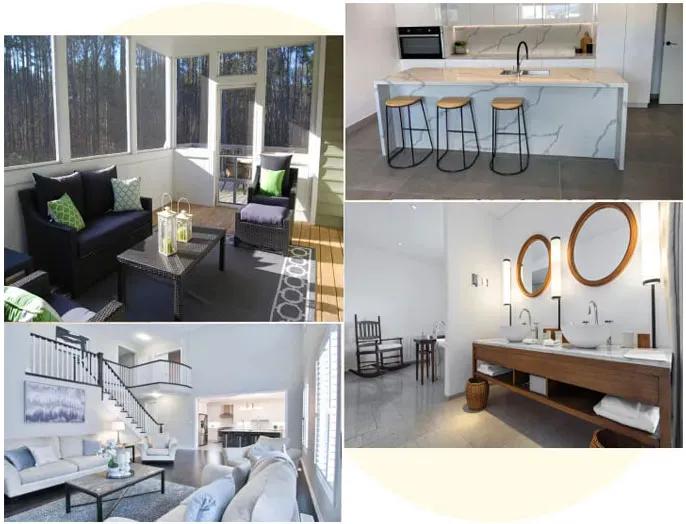 What Will Be Your Next Kitchen Cost?
To know what your next kitchen will cost, simply follow the below steps
Step 1: Measure your entire kitchen space – Length and height of wall. If you have any windows , please measure them and clearly mark them on your sketch
Step 2: Measure the sink center
Step3: Measure the hob center
Step 4: Take a photo of the entire kitchen space.
Send these measurements to us with your details using "free estimate" which can be found on the top RHS on our website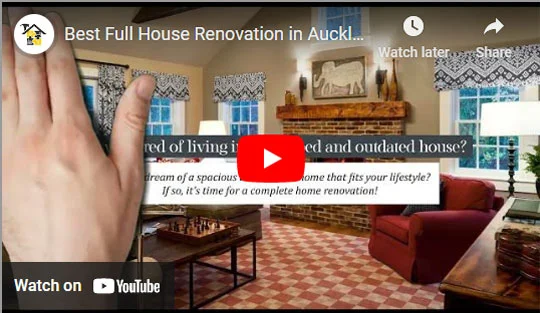 Our Process to Lead Your Full House Renovation

Initial Contact & Estimation

Site Visit & Space Planning

On Site Construction

Project Handover
For Complete Home Renovation In Auckland, New Zealand
When it comes to home renovation, three areas stand out as the most popular and impactful: the kitchen, bathroom, and overall home renovation. Kitchen renovation is particularly important because it's often considered the heart of the home and a place where families spend a lot of time. A well-designed and updated kitchen can add value to a home and make it more functional and enjoyable to use. We offer best Kitchen Renovation in Auckland. Similarly, bathroom renovation can also increase the value of a home, while providing a more relaxing and comfortable space for residents. We have team of expert for providing Bathroom Renovation in Auckland. Finally, an overall home renovation can transform a dated or dysfunctional space into a modern and functional home that suits the needs of the homeowners. Whether you're focusing on a specific area or taking on a larger project, home renovation can be a great investment in both the value and livability of your home. For Home Renovation in Auckland, call us today.
What they "SAY" For Our Kitchen | Bathroom | Home Renovation Services
"The team at Kitchen and Bath Reno went above and beyond my expectations. From the initial quoting to completion of the job I was met with good old fashioned customer service, prompt and reliable tradesman and a superior finished product." "I would strongly recommend them to anyone considering renovating."
"Vik and his team at Kitchen and Bath Reno were extremely professional and reliable throughout the entire job and produced an excellent end-result. They provided some great advice and guidance to ensure a quality finish and constantly kept me informed of progress. I look forward to working with them again in the future!"
"I'm not an easiest person to deal when it comes to what I want. Vik and his team listened to what I had to say, and they were wiling to make last minute changes. The entire Project took a bit of time but I am very happy with the end result. Highly Recommend this team."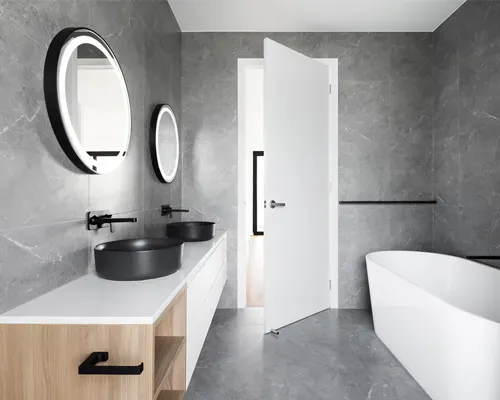 Frequently Asked Questions
Why You Are The Best Service Providers Of Bathroom And Home Renovation In Auckland?

We are one of the prominent Bathroom And Home Renovation Service Providers In Auckland because of the following reasons:
We listen to our client's demands and make their dream true.
We use the finest materials and cutting-edge technology.
We put full bags of tricks to bring creative and unexceptional appearance.
We offer both residential and commercial Bathroom And Home Renovation services.
We have an expert team on board to handle every challenge professionally.
What Are The Different Services You Offers?

We offer you various House remolding services in New Zealand. Here they are:
Kitchen Renovation
Bathroom Renovation
Home Renovation
Child Product
Designer New Kitchen
Kitchen Manufacturers
New Kitchen
Bathroom Makeover
Full House Renovation
Home Extension
Is Your Home And Bathroom Renovation In Auckland Is Budget-Friendly?

People think of Bathroom And Home Renovation in New Zealand but don't prefer them because of their high prices. Keeping this in mind, we bring the best and most innovative Home And Bathroom Renovation at a pocket-friendly price. So you need not worry about the amount. Relax back and get your dream Bathroom, Home and Kitchen Renovation done with us.
Why Do I Need Professional For Bathroom | Home And Kitchen Renovation?

You require professionals for Bathroom And Home Renovation Services because of the following reasons:
Have complete knowledge about the designs and the process
Use the finest material for Bathroom And Home Renovation
Have experience team of experts
Ready to accept all challenges
Complete the task in a given time
Offer you perfect finishing
Why Should I Go For Bathroom And Home Renovation Service?

The Bathroom And Home Renovation Service gives your place a flawless appearance. The old-fashioned home is not like all and becomes tiresome. So at that time, you need to take Bathroom And Home Renovation to add charm and interest. So to keep your dwelling updated with the latest trends, it's better to go for Bathroom And Home Renovation. A single change in any corner of the abode brings a big update.
Head Office
4 Kelpie Lane Otara Auckland 2023
Regional Branch
Hawke's Bay Branch – 377 Marine Parade Napier South Napier 4110
093935270
hello@kitchenandbathreno.co.nz
Copyright © 2022 Kitchen and Bathreno | All Rights Reserved.